S1E15 - 6 Shockingly Common Ways You Have Not Been Showing Up in Your Life
Have you been keeping yourself small and invisible?
9 months ago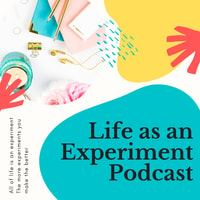 Episode Notes
Keeping yourself small is usually a sign of low self-esteem and self-worth. When we keep ourselves small and invisible, we aren't showing up as our true, authentic selves in life. We all keep ourselves small in various ways, this episode lists 6 incredibly common ways in which we do so. A question to ask ourselves - do we want to live like that all our lives? Or do we want to step up and start being present to what life has to offer us?
Let's Connect! Blog | Build Up Your Self Esteem in 5 Easy Steps | Slay Your Life Bundle
Find out more at https://life-as-an-experiment.pinecast.co
This podcast is powered by Pinecast.